What Digital Marketing Can Do For Your Brand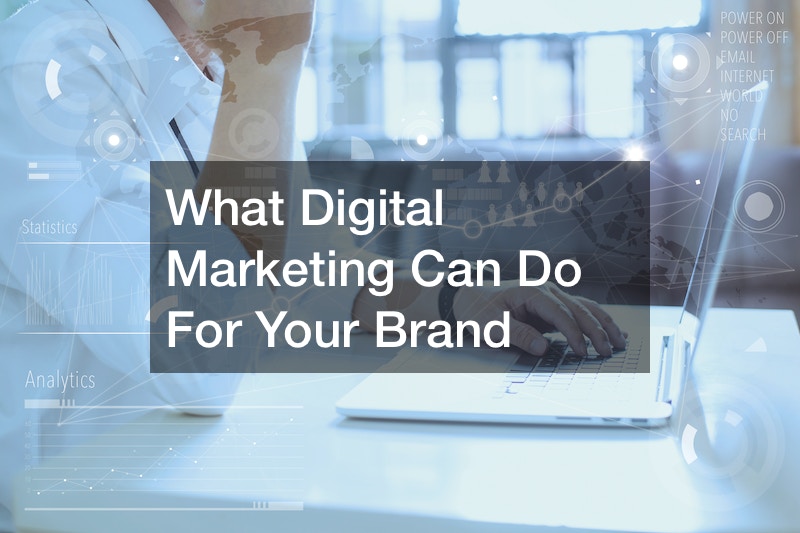 More and more consumers rely on information acquired online to make buying decisions. As such, digital marketing is key to reaching them. This is why a business may seriously want to consider hiring an SEO agency or a digital agency to help them achieve their sales goals. One of the advantages of digital marketing is its ability to narrow down an audience. Knowing who you are selling to allows you to focus your budget on those groups that are more likely to buy your product.
A digital marketer can also help businesses track marketing success through multiple channels. These include company websites, social networks, e.g., Facebook and Instagram, emails, blogs, online display ads, and mobile apps such as TikTok. Understanding the performance of marketing efforts helps one develop a digital marketing strategy that resonates with the audience. In addition, a byproduct of targeted customer engagement is customer retention. Positive interactions with customers help build brand loyalty. Through targeted digital ads, a company can generate more promising leads across the globe. In today's fast-moving world, it's essential that businesses, both small and large, maintain a visible online presence.
Marketing has long since been essential for any business, and different forms of marketing have emerged over the decades and even centuries. Today, time-honored method such as signs, price tags, attractive packaging, and newspaper ads are still effective and have proven valuable for marketing all around the world. These traditional method are not alone, however, and marketing services today tend to make use of the Internet and social media to spread a brand name and reach out to customers. Often, a company may use both print media and digital media alike to spread its brand name far and wide, and a good marketing strategy will be a flexible and comprehensive one. Today's digital marketing services from digital marketing firms can do a lot of specialized work for clients, and this ranges from website design to SEO writing to social media platforms. These digital marketing services can spread the word far and wide.
A Good Website
Among other jobs, marketing services can build a good website for a client. This website will have technical design in place so that it's easy to navigate and loads its content quickly, and a proper website will be informative, appealing to look at, and have a sensible layout. This is best left to web designers, and they will know how online guests think and behave. A general trend among online guests is that they're impatient; they may leave a website out of impatience if videos or images fail to load, and they may also leave if the layout is confusing or if there isn't enough useful information or contact information on the website. For these reasons and more, images and videos should be provided as visual data, and they should load on any web browser without any trouble for a guest. Articles, bullet point facts, videos, and images will promote and explain the goods or services that a company provides and why they are so appealing, and the website should also have contact information for phone, e-mail, and more. How might these websites be found?
Managing Online Traffic
The Internet is notorious for its vast volume of content, and a company's website must be easy to find it it may get no traffic at all. How can this be done? Search engines, to put it simply. Popular search engines are useful for greatly narrowing down a search for specific content that a user would like, based on the keywords entered and a specified location (if any). A web user may search for something such as "roofing contractors Boston MA", and will indeed find the websites for roof companies in Boston, Massachusetts.

In particular, marketing services may provide SEO work. What is that? Search Engine Optimization is when keywords are worked into a website's articles and headlines so that it appears earlier and more often in web searches, making the content relevant to a search query. After all, search engine users typically only view the first few pages of results, neglecting all the others (even if they number in the thousands). A website may also appear earlier in a search if its content was updated more recently, so abandoned or neglected websites will appear much further down in a search than most web users would want to look. Finally, SEO work also involves tracking how many hyperlinks lead to that website from other reputable websites, with more being better.
Social Media Profiles
Social media platforms such as YouTube, Twitter, Facebook, and even Instagram are useful for more than sharing fun photos or status updates. These platforms have many users and a lot of traffic, and marketing services can tap into that on behalf of their clients. A company may have its own Facebook page, Twitter account, and more so that it can share new products, services, and sales with its customers at any time of the day. This can be much faster and more price-friendly than a TV ad, for example. And these social media platforms are useful for contacting customers quickly and directly, answering questions or addressing complaints from many customers. Surveys show that many consumers are happy and impressed when the social media accounts of businesses respond to then promptly. This can encourage more customers to try their products or services.