15 Tips to Sell your Car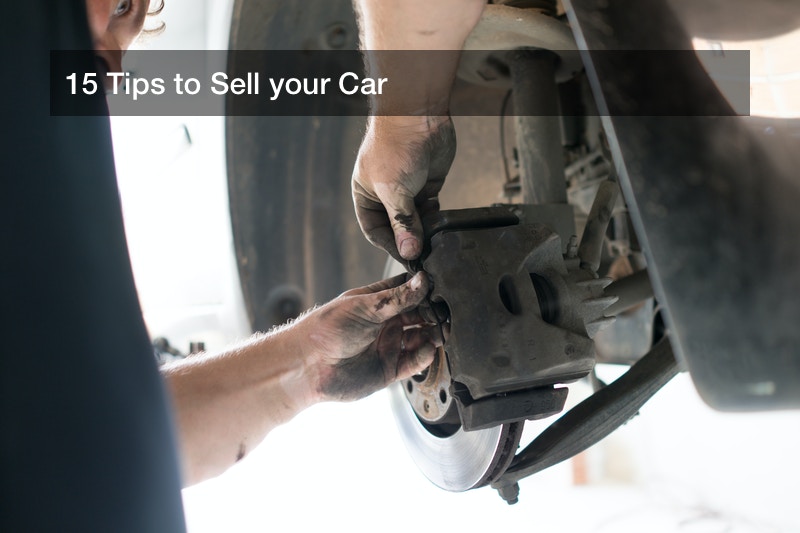 Paying off your car is an exciting feeling after you've been stuck making payments for months or even years on end. Obtaining a pink-slip can be a good thing not just to free up your income, but to free you up to finally be able to sell your car with no strings or debt attached. But, selling your car might be a little bit more difficult than it seems. Sometimes, it takes months or even years to get that old clunker of yours to sell for a fair price. It's a great idea to research ways to market your car in order to make it easier for you to get the cash you need for a new project, or even a down payment on another car.
What Is Marketing?
Marketing your car is essential to get it off your lot or out of your garage and get cash in your hands. If you don't already know, marketing involves getting the word out there about your product, project, or service and for bigger companies involves things such as advertising, branding, and networking. Luckily, you don't need an entire marketing team or a huge budget to market your car, but a little bit of knowledge on basic marketing skills can help. These following 15 tips are just some of the ways to not just market your car, but steps you should do before selling it in order to get a fair price as soon as possible. Be sure to do your own research and ask around for solid advice on any mechanical issues on your car.
1. Maintenance for Your Car
The first thing to do even before selling your car is to keep up with its maintenance. Believe it or not, for the right price, even a car with 150,000 miles on it will sell. However, this is only the case if the car is not in good working order. It's always better to sell your car knowing it is in good working order and that all parts such as the engine and transmission are working properly. Market your car as one that has received the proper maintenance and you will have an easier time selling it. This includes things such as brake repair service even when your brakes aren't worn down to the rotor! It's always helpful to keep receipts of major maintain ace, such as changing of a timing belt, to ensure that the customer knows you are being genuine.
2. Pay for Body Work
On top of being able to market your car as a well-maintained piece of machinery, you'll want to make sure it's as beautiful on the outside as it is on the inside. Make use of services such as auto glass services, body work repair, and even custom painting to make your car that much more beautiful and eye-catching.
This will help you sell your car even if it's an older model, as it will still look brand new with the help of great body work. In addition, keep in mind how certain colors affect the market of your audience. For instance, if you're selling a sports car, a nice red or black can make it pop. But, if you're selling a regular sedan or family car, perhaps a nice white or tan can be helpful. Knowing what kind of people to market your car to makes all the difference.
3. Research through Kelly Blue Book
The Kelly Blue Book price is the price you should strive to obtain when selling your car. It's easy to use as well! Just go on the website, input the information of your car including mileage, color, year, make, and model to see what its true value is. Keep in mind that past accidents, additional automobile services needed to get your car functioning, and the market of your car will make the price fluctuate significantly.
4. Talk to Your Neighbors/Coworkers
It's important to talk to your neighbors or anyone that sees your car while doing market research. Who knows, maybe your coworker or neighbor wants to buy your car or knows someone that does? If they don't, asking them what they think about your car, how it sounds, looks, and other details can help you understand what others think of your car before trying to sell it.
5. Visit Facebook
Posting your car up for sale can be done through various platforms. One of the up-and-coming platforms is the Facebook marketplace. Thousands of marketplace pages are now all over Facebook dedicated to certain cities, towns, and other groups that are looking to buy, trade, and sell within their respective communities. This is great if you're not willing to travel or want your buyer to be local.
6. Visit Offer-Up
Facebook is a great place to market your car, but like other websites like Craigslist, fake profiles, or anonymous details are still possible. Luckily, with apps like Offer-Up, that anonymity factor is taken off. This is because Offer-Up provides you a way to see people's profiles and see what they have been rated as not only a seller, but a buyer! Offer-Up is a great place to ensure the person offering to buy your car has made transactions before and isn't just a fake profile behind a screen.
7. Use Dealerships to Your Advantage
You might be tempted to sell your car to used car dealers, and this does have certain advantages. For one, dealerships such as CarMax do a full check-up and let you know any issues that can arise from your car. Even if you don't sell them your car, this checkup is free and can be a big help in helping you find out about certain issues with your car. Used car dealers also ensure that you are paid on the very same day if they are bigger in size. Unfortunately, you will lose a big amount of money selling directly to a dealer as opposed to a buyer. Dealerships will have to invest in your car, as well as want to make a profit, so they might low-ball you in the thousands! Keep your options open.
8. Put Up Flyers and Advertisements
Online ads are great, but so are regular flyers and advertisements, especially when selling a car. Just like lawyers use flashy billboards to advertise their services, you can market your car by parking in a safe area that has lots of foot traffic and with a flashy sign. Make sure your contact information is large, clear, and legible, and your flyer or sign on your car sticks out in colors such as red and white.
9. Do a Garage Sale
It's important to reach as many people as possible when you market your car. But, if you're having trouble reaching out, why not let people come to you? Hosting a garage sale is a great way to not just clear out old junk, but also let people come by and see your car in person. It's a great way to be subtle about selling your car, but also lure in potential customers. Customers can also take this opportunity to get contact information in case they want your car sold to another friend or relative. In addition, once you get people to view your car, they are free to ask questions, take pictures, and fall in love with your car.
10. Disclose Accidents
A Car Fax report will have accidents reported on there, but make sure to discuss any accidents with your future buyers. This will save you from possible lawsuits from auto accident attorneys should your car get into another accident later on and previous damage discovered. Disclosing accidents is also the right thing to do morally, and isn't necessarily a deal-breaker as long as you explain the situation and reassure your buyers that all damages were restored.
11. Research and Price Competitively
The Kelly Blue Book price for a used car is always a good base-price to start with. However, the rarity of your car can increase the value, and other factors can make you price your car differently. For instance, if a famous person used to own your car, documentation of this can help you sell your car for more money. Also, if your car is being sold by other nearby sellers at a certain price, you can certainly lower your price to offer a competitive price. These techniques require some minimal research skills, but overall are very doable and will help you sell your car even faster.
12. Take Great Pictures
Remember when you got into an accident and had to take tons of pictures for your auto insurance agency? That's how many pictures you will want to take of your car as well. This is because most people that are interested in buying a used car will look online for one as opposed to going out and actively search for a used car. In fact, over 51% of smartphone users have discovered a new brand or product from a search on their smartphone, making it very likely that your car will be one of these products. If you want to attract the attention of a buyer, make sure to market your car in the most detail as possible. Take pictures of the paint, the tires, and especially the interior, where the driver can envision driving themselves.
13. List All Details
As mentioned above, when you market your car, you must keep in mind that people are more likely to buy your car when they can envision themselves driving in it. This can be helped by providing as many details as possible when describing your car. Leather seats, seat warmers, how the car feels on the asphalt paving, how it takes on gravel, how the engine sounds, the quality of the radio- all these are incredibly valuable to giving a full picture of your car and making it that much more desirable. Never underestimate the power of a descriptive selling description. Whether it's online or physically listed on your flyers or sign, make sure you have these details accounted for to attract attention.
14. Keep Organized
Nothing is more annoying than wanting to buy something, but the merchandiser is nowhere to be found! This is especially true when selling your car. It's important to make time to not only market your car and do adequate research beforehand, but also make time to speak to customers and answer their questions. Be it in person or online, making sure your customers can reach you is important to keeping them happy and selling your car to them eventually.
15. Keep your Car Protected
Insurance coverage rates for your car might differ as you're waiting to sell it and not driving it. This can be very helpful so that you save money before you sell your car, but it's important to keep your car protected even while it's in the process of being sold. Make sure you still have protection against stealing, vandalized, or even damaged in a natural disaster. To ensure your car is being adequately protected, you can also look into air conditioned storage units big enough to store cars in. This will help at least, to get protect your car that much more from the possibilities of natural disasters and vandalism. Keeping your car in top shape before selling should be a high priority.
Take Time to Sell
If you're in a real-time crunch to sell your car, it might be necessary to take the dealer route and get money quick. But, if you want the most profit, want time to think your decision over, or have doubts or concerns, taking time to think about how to market your car is probably one of the best decisions you'll ever make.