Five Benefits Of Using PoE Clocks In The Workplace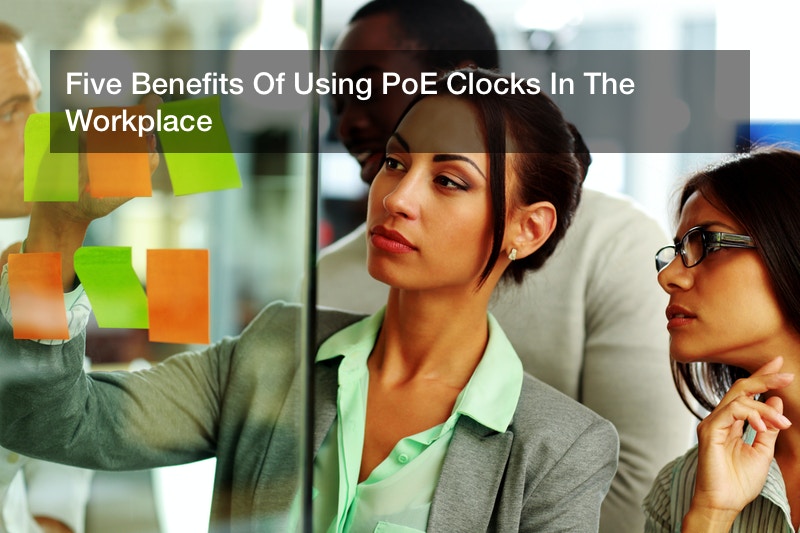 In today's business climate, it's getting pretty common for companies, especially those involved in facility management to use Ethernet connectivity for a number of products. One of these many products is a wall clock, which are seen all over busy, up-and-running facilities.
In many fields of work, you've likely heard well-worn cliches about how "time is money" and about the importance of time management. Humans have been keeping track of time for 5,000 to 6,000 years, dating back to the ancient Egyptians, so time management has always been paramount.
When it comes to wall clocks, companies are using Power over Ethernet (PoE clocks) as well as IP Network Synchronized clocks. These PoE clocks tap into an Ethernet connection to receive time and power data by connecting to a local area network (LAN) or wide area network (WAN). In essence, these "smart" PoE clocks are able to keep companies function on time by drawing real time data.
For companies of all kinds, not just those in facility management, there are many benefits to using PoE clocks. These advantages include:
Savings: PoE clocks significantly reduce the cost of installing technology. Since time and power data is easily provided over a single Ethernet cable, the need for electricians to wire an office or a facility is now unnecessary. PoE clocks can easily operate within a company's existing Ethernet connections and no additional equipment is needed. As if that wasn't enough, PoE clocks use a very low voltage, so they are very energy efficient.
Zero interference: Compared to some wireless technologies, Ethernet has less chance for disruption from bandwidth limitations, interference from radio waves or any physical barriers. This makes digital wall clocks and PoE clocks a no-brainer to use.
Accuracy: You've likely heard the phrase "Time is money" and with PoE clocks, accurate time is displayed all the time. With accurate time, companies and individuals can improve their efficiency, productivity and punctuality. Whether it's hospitals, schools, facilities, manufacturing, journalism or any number of other fields, accurate time is of the utmost importance and PoE clocks ensure that accurate time is always kept.
Flexible installation: With less of a dependence on equipment and needing AC outlets to plug in a multitude of gadgets, PoE clocks offer a lot more flexibility when it comes to picking clock locations. Since a PoE clock system needs just one Ethernet cable to work and an access point to get both power and NTP time synchronization, companies can put clocks anywhere and everywhere they please.
Globe or individual time setting: Another benefit of PoE clocks and PoE clock systems is that they can be enabled for a single employee's needs or for an entire system-wide configuration. They can also take into account different time zone offsets, time formats and daylight savings time, so this makes it very advantageous for use in global organizations, military organizations or for financial institutions.
It's hard not to blame companies for placing so much emphasis on time. In any workplace, time is important. For years, company men and women came to work and punched time clocks and today they log time data into an ever-working network. Time is important even for things like social media, computer networks, cloud services and many other things. Whether you know it or not, time controls a big part of the average person's everyday life whether it's getting to work in a timely manner or picking kids up from school or getting to social functions on time.
For the reasons listed above, network time servers and PoE clocks are being critical in the average workplace. These days, companies can't afford significant losses in time or productivity for fear of losing business or being left behind in an ever-changing business climate. With accurate time, companies can focus on functioning at their most productive levels, increasing their efficiency and getting their work done in a timely manner. No longer will companies have to use tired cliches like "Time is Money" because they won't ever have to worry about wasting precious time again.