Why Your Contracting Business Needs a Practical Online Portfolio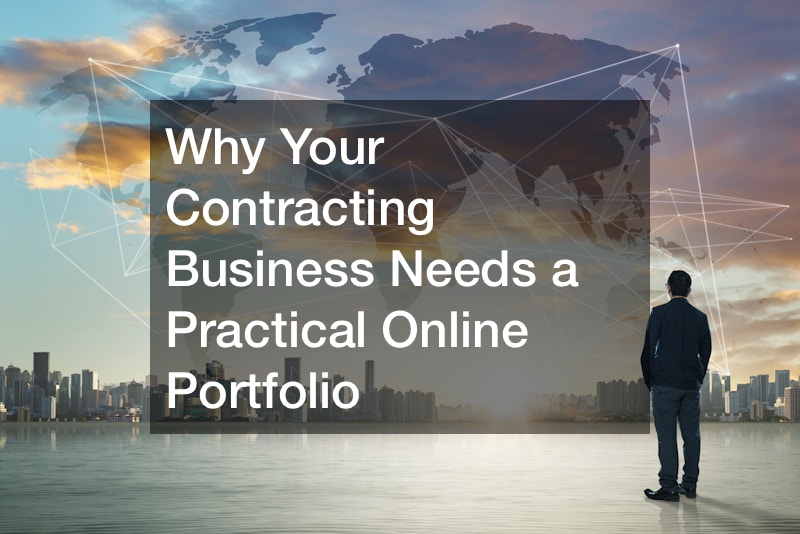 You've probably heard that freelance professionals have a practical online portfolio. Journalists, graphic designers, and photographers use them for an online presence. Could an online portfolio benefit your contracting business? In this post, you'll learn ten reasons to get a practical online portfolio as a contractor.
1. Showcase Your Past Projects
If you've been in business for some time, you have past projects that can help you market your expertise. A practical online portfolio can help instill confidence and trust in prospective customers. Research supports this. According to a report by Zippia, 47% of shoppers will visit a business's website before buying. You want potential leads to get only the best of you online. An online portfolio will convince them to hire you.
For contractor services, quality is a priority. Many clients have been disappointed by unscrupulous businesses. They want to work with someone they're sure can deliver. Clients can't know that unless they work with you. Besides online reviews, an online portfolio is the next most helpful thing. You can showcase similar projects you have done and what the client feels about them. For example, if you work in interior design, what kind of projects have you done? Can a client see proof?
Besides, an online portfolio distinguishes you from your competitors. There're already many businesses doing what you do. What sets you apart is the ability to prove expertise and signs of trustworthiness. You have to deliver so a client can know you're trustworthy. So, clients may use online portfolios to separate the imposters from the masters.
2. Display Your Most Popular Designs
A practical online portfolio also lets you showcase your most loved projects. For example, say you're a design-build contractor. What are the projects most clients have hired you to do? Sunrooms? A patio? With your portfolio, you can show future clients designs that most customers love. Not only will this give them more confidence, but it may also help them choose.
For clients who already know what they want in mind, your portfolio could give them the wow! That's what I need to feel. Even more, your portfolio gives them social proof. Social proof is what tells clients that other people love these designs too. In an increasing community marketplace, social proof is a powerful marketing tool. It encourages more people to share designs they love, thus increasing your visibility.
Displaying designs can also spark creativity in your clients. They can visualize how their projects will look like. For example, if you've done a grand entryway home project, they can start imagining how theirs will go. Encouraging creativity allows your clients to be part of the process. Thus, they'll feel more ownership and personal pride when the project is through. Your displayed designs will have helped them achieve this satisfaction.
3. Provide Images of the Products You Install
Have you ever tried explaining to a potential client your services? Could it have been easier if you had photos? A practical online portfolio lets you show clients a visual representation of your products. For example, if you make or sell garage doors, clients can see the quality and materials firsthand. If you offer different types of doors, clients can see photos of your offerings.
According to Odette, 50% of customers say high-quality images are more helpful than reviews or product information. If a shopper has to choose between you, who has an image-oriented portfolio, and a business without one, they're likely to feel safer in your hands. The trick is to ensure the images are relevant to your products. It's best to hire a professional photographer to take original high-definition photos.
You can also have a more creative approach. For example, you can have before and after photos. They're quite popular and effective marketing tools. For example, let's say you do kitchen remodeling. With the homeowner's permission, you can take pictures of the kitchen. By uploading the pictures to your portfolio, you're giving clients confidence. They can visualize with their minds how their projects will look like.
4. Publicize Your Success
Regarding business, it's okay to show off. Clients will only know of your accomplishments if you share them. Social media is a good place, but once you post, it'll take a lot of work for clients to sift through all the items. A practical online portfolio lets you organize your success stories for marketing. For example, if you're in the heating and cooling business, you can publicize how you have provided solutions.
Publicizing your success helps build your reputation. When people can go to your portfolio and see your track record, they create a positive impression. The evidence on the portfolio cements the trust they are building. They can see other people who trusted you with their projects and now see–success! People love working with successful brands. They perceive they'll get more quality.
You can boost your credibility by displaying awards and recognition. Awards prove you're a successful brand that delivers its promises. If you don't have awards, you have client testimonials. Use them. Satisfied clients act as advocates about how you deliver projects. An online portfolio lets you bring all your success stories in one place.
5. Broadcast Your Community Involvement
Like publicizing your success, a portfolio lets you broadcast community involvement. For example, let's say you are local residential roofers. As part of your CSR, you help repair roofs for veterans. Why hide such a fact? According to Harvard Business Online, 77% of consumers prefer buying from businesses that try to improve the world. If you're already involved in your community, a portfolio will help show potential clients that you care about more than money.
Clients are likely to trust a business that's involved in the community more. That's because the business has established networks and people in the community. If you never let clients know, they can't attribute these benefits to you. Yet, with a practical online portfolio, you can build public relations. Every time your business is mentioned, your brand builds a reputation.
Employees will also be proud to be associated with your business. For example, they can stage the portfolio on social media, thus increasing your visibility. More visibility often means more leads, which is good for business. Your online portfolio can also increase brand awareness. People have an accessible place to learn more about your business and what you do.
6. Provide Examples of Your Core Services
A practical online portfolio is a suitable way to communicate your core services. Let's go back to our previous example of roofers. One could expect different services from roofing services and repair, maintenance, or installation. How do your clients know what you do exactly? A portfolio is how they know. If you create a website, you can highlight core services so clients know what to expect from you.
Highlighting core services helps clients find you easily. Clients rarely seek generic services; even when they do, you have to define them. Clients will easily find you when they know what you offer. Instead of them having to call or email you, a portfolio allows easy access to your main services. By sifting through the examples, they get an idea of what you can do for them.
Highlighting specific examples of services helps your clients understand their needs. For example, if you show them previous pools you have done in the past, they can see how your solution will work for them. They can ask questions and seek clarification based on what they can see. Thus, a practical online portfolio can help your clients make decisions.
7. Showcase the Artistry of Your Industry
An online portfolio also helps display your craftsmanship. Your prospective clients may not have seen your work, but an online portfolio helps you show it. For example, say you make custom outdoor signage. A client is looking for such services, and they stumble across your portfolio. They won't need to have met or seen your work to be convinced. Your practical online portfolio will do that for you.
You can also use your portfolio to set yourself apart. For instance, your competitors may focus only on the functional aspects of the business. On the other hand, your portfolio can show prospective clients that what you make is not only practical; it's an art. For example, you can add a signature style if you sell furniture. By displaying your craftsmanship online, you're setting yourself apart. Your clients will feel like they have a master for their project.
If you can capture your artistry on an online profile, you'll increase your value. Clients who value artistry will perceive your work as more valuable. Thus, you'll command higher prices for your products. The clients will also likely trust that you can deliver in the same way you delivered for projects in your portfolio.
8. Highlight Niche Services
Apart from core services, your portfolio can display niche services. For example, you can show off your commercial wood doors if you're a door company. In a sea of multiple services, showing specialization can give you the success you need. A practical online portfolio will bring only your ideal clients. Thus, you don't have to convince them you're the person for the job. They know who you are and what you can offer already.
Showing your niche services helps show your expertise. For example, there'd be a difference between seeing a general physician versus a specialty gynecologist. Most people will attach more value to specialized services. But how will they know you're an expert unless you show them? A practical online portfolio will show them what they need to believe you can handle their project with expertise.
Displaying niche services through a portfolio can also help with networking. For example, a food photographer can easily find a business specializing in steak. Such networks encourage referrals. Your professional network lets you access opportunities and business leads. But for such networks to find you, you must be visible.
9. Display Your Contractors' Skills
Of the many factors clients look for, skills are top. Even if you're master chimney contractors, clients won't know unless you show them. There're multiple ways to show off your skills. A practical online portfolio is probably one of the best. It instills confidence in your clients that you can do what you claim.
Some contractor businesses hold even higher stakes. If a client's project goes wrong, they could lose hundreds of dollars. A portfolio is a quick and efficient way to convince your clients that you have the skills for the job. You can also prove expertise using your portfolio. The portfolio will position you as a knowledgeable and trustworthy service provider. Most clients want to know they can fully rely on a service provider.
If you handle different types of projects, a portfolio helps prove your versatility. You can group your past projects into categories. For example, if you're a kitchen remodeler, you can group them into cabinets, floors, and marble tops. Thus, your portfolio will prove to the client that you can easily handle different projects.
10. Inspire Potential Customers to Hire Your Team
You should have a portfolio so clients can hire you. Sometimes, showing your team can instill confidence that yours is the best team they can have. Showing your team delivering piping and repiping projects tells clients that you are professionals. Even when a project is small, most people want to know they're working with a professional.
Besides, you can place strong calls to action (CTA) on the online portfolio to get clients hiring you. Creative MMS says CTAs increase revenue by 83% if you place them well. Your practical online portfolio will work if you learn to place powerful CTAs. It'll bring in leads even when you're sleeping. Of course, without an online portfolio, you'd have to rely on other methods.
To bring it all together, a practical online portfolio is a powerful tool for contracting businesses. On it, you can display your expertise, artistry, and professionalism. You can get them to hire your team. So, create an online portfolio that works for your business.