10 Businesses That Need IT Support and Maintenance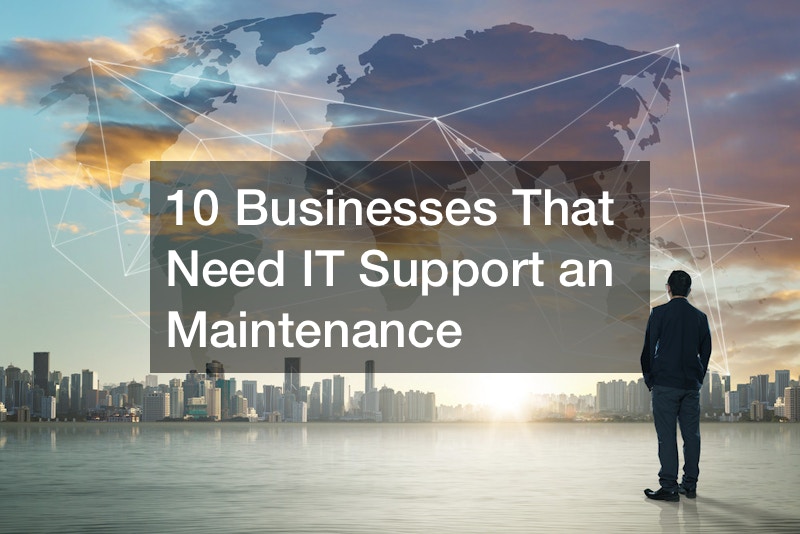 Opening any new business can seem daunting, but when you open an information technology support firm, you wonder how many clients you'll have. Do you target residential or commercial customers, or do you advertise to both? You choose whether you want to specialize, but many IT support businesses find a ready customer base in local and regional businesses in need of IT support and maintenance.
Most Small Businesses Lack an Internal IT Staff
Most IT companies find that their local businesses equal small businesses. That's great news for IT services and maintenance firms because most small businesses lack internal IT staff. They also don't have the budget to hire an on-site IT support person, so they outsource their IT needs. That makes your local small businesses ideal as potential customers.
Your local small businesses need IT staff though. They need help with day-to-day items like installing and updating software, setting up new computers or their first server, networking a printer to all of their computers and mobile devices, etc. Local businesses also need websites. They probably don't know how to design one themselves and examples of do-it-yourself websites abound across the Internet. You can typically tell when a business makes its own website. Let's consider the many reasons businesses need IT support services.
Why Do Businesses Need IT Support Services?
Today's world runs on computers, so businesses need IT support and maintenance to remain competitive. Almost every business uses some form of electronic technology in its operation. Opening an IT support service in an Amish community would make no sense, but in most cities and towns, each business uses at least a cell phone and a tablet in its operation. Businesses need IT support to grow their businesses and outsourcing those needs proves easier and cheaper than hiring someone full-time.
Each business needs a website, offering a huge opening in the world of information technology and IT support. As the Internet grew, so did the incidences of cyber-attacks, phishing, and spam. IT support helps businesses curb these malicious events by quickly diagnosing the problem and creating a patch or fix to block business interruptions and attacks. Ideally, IT takes a proactive approach to these threats creating mechanisms that stop them from happening at all rather than taking a reactive approach.
Providing IT problem management stops small problems from escalating into big ones. When addressed early on, a small problem solved doesn't grow larger. This protects the business, its data, and ultimately, its customers. Whether a problem is caused by an update that outdated equipment can't install or a website glitch that leaves the company's online presence vulnerable, immediate IT support solves the problem.
This all culminates in increased uptime for the company. Good IT support reduces downtime and increases efficiency. By taking a proactive approach, a business can help itself operate at full capacity by outsourcing IT support and maintenance.
Today's data-intensive business world requires IT assistance. No longer can a business count on remembering its customers by name; each company requires a customer database. Mom-and-pop stores use customer management software to store information about customer contact information, likes and dislikes, and consumer needs. This requires IT to create and maintain the databases, sometimes integrating them with the business' website.
Outsourcing IT support makes more sense than hiring one individual because the 9 to 5 workday no longer exists. Today's businesses operate in multiple time zones and the work from anywhere revolution has moved the need for business-day IT support to one of a need for 24/7 IT support.
The IT support staff conducts regular maintenance to ensure businesses can operate at maximum capacity with fully updated equipment. The information technology personnel spot security risks and recommend system-wide changes that can improve security and productivity.
What Should Businesses Look for in an IT Support Service?
If you're a startup or small business reading this, you might wonder what aspects to look for in an IT support service. Not all IT companies operate the same way. Here's a list of features to prioritize in your search for information technology support:
Trained, certified, professional engineers, prioritizing those with ISO27001-certified security services and Cyber Essentials Plus certifications
Provides 24/7/365 support, monitoring, and maintenance
Creates custom service packages tailored to each business
Offers asset management and IT infrastructure planning, installation, and management
Offers daily automated computer back-ups and software updates
Provides dedicated devices and server space devoted to each business served
Designs infrastructure, builds it, and installs it for each business.
Using these minimum criteria, each business can find an IT support service to outsource its needs, saving money and increasing productivity.
What Types of Companies Need IT Support and Maintenance the Most?
Whether you're an information technologist trying to plan your business marketing, or you just opened your own local business and want to know its IT needs, we'll explain in this section the 11 industry sectors most in need of outsourced IT support and maintenance.
Law Enforcement
While city, county, state, and national police forces and special investigative agencies hire internal IT staff, private law enforcement companies often outsource their IT support and maintenance needs. By private law enforcement, we mean bail bond agents, security guard companies, private investigators, bodyguards, security system designers, and installers, etc. Firms such as these need day-to-day general IT support services, and databases and website design services. Most use mobile technology to remain in constant communication and require encrypted communications to enhance security.
Medical Providers, Hospitals, and Clinics
Physicians, dentists, hospitals, and clinics all need IT support with special training in the area of HIPAA regulations. These individuals and organizations must maintain patient privacy while maintaining databases that share limited information with medical coders, other medical staff, and billing services. The medical industry uses some of the most compliance-intensive computer operations and an IT service that specializes in this area can expect a heavy workload.
Health and Wellness Businesses
Other health and wellness-related businesses, such as full-service salons and spas, especially the medspa sub-industry, also require intensive IT support and maintenance. These businesses also fall under the requirements of HIPAA. Some accept insurance, which increases their privacy needs and security requirements. In addition to marketing websites, they require complex databases that let them separate medical procedure customers from those undergoing non-medical procedures.
Automotive Services
The automotive services industry, especially those involved in towing and heavy duty towing, needs IT support services that specialize in mobile devices, including mobile phones, tablets, laptops, and convertible tablet laptops. Towing services remain on the go and so does their IT solutions. Many automotive service businesses use shop software designed for garage businesses that require IT expertise for setup and maintenance.
Recreational Businesses
Recreational businesses require a different specialty in IT support and maintenance, in addition to the typical services that keep their computers and network running appropriately. This type of company needs websites with online catalogs and shopping carts integrated so their customers can purchase a new golf cart for sale from their home or order their next all-terrain vehicle (ATV) online. These websites contain powerful databases that link to the company's customer relationship database.
Contractors
All types of contracting businesses need IT support with maintenance services. From your local roofing contractor to the plumber two towns over, these businesses require websites, databases, online scheduling systems, estimates and quoting apps, and other specialty web apps and computer/mobile applications. Here's a list of the types of contractors most in need of generalized and specialized IT support services:
General contractors
Master carpenters
Plumbers
Electricians
Heating, ventilation, and air conditioning (HVAC) services
Masons
Excavation services
Swimming pool and spa installers (hot tubs and Jacuzzis)
Flooring installers
Siding installers
Window and door installers
Insulation layers and blown insulation installers
Architects
Landscape architects
Lawn services.
Essentially, the home services industry offers an immense opportunity for IT support companies. IT firms that offer website design and those with superb professional SEO copywriting skills that can also author snappy web copy and blogs can easily excel with the right marketing and sales techniques.
Creative Businesses
Creative businesses like interior designers, graphic designers, marketing firms, advertising firms, etc. need IT support and maintenance. These types of businesses use specialty software that requires expertise to set up, maintain, and update. The competitive creative fields need IT staff that stay on top of industry developments and the latest software trends to help them remain ahead of the competition. This includes knowledge of cutting-edge tools, such as advances in WACOM-like tools for graphic artists and augmented and virtual reality used by interior designers and architects.
Law Firms and Legal Services
Much like the medical profession, the legal profession requires significant compliance measures, most of which involve information technology. Regardless of an attorney's specialty, whether they practice intellectual property law or personal injury law, they'll require an extremely secure database to house the information.
Attorneys also need an informative, professional-looking website that apprises potential clients of their specialties and provides information on those specialties. These websites typically contain a blog with weekly or monthly entries that educate potential clients, while providing SEO ranking assistance.
IT support and maintenance services that serve this community need intimate knowledge of its compliance needs. IT staff should monitor national, state, and local laws regarding legal compliance issues. Catering to this industry typically means creating a niche IT business, since keeping abreast of compliance issues requires an immense chunk of time.
International Businesses
Although local businesses do offer a ready starting place for a newly founded IT business, don't ignore the international business setting. Outsourcing IT services lets a company hire from anywhere, cherry-picking the most educated, experienced individuals and companies to help it succeed.
That means you do target the steel fabrication services businesses or diamond mining companies as long as you know their industry well and understand that industry's specific needs. The diamond industry prioritizes avoiding blood diamonds, tracking the purview of diamonds, and combating the growth of scientifically engineered diamonds. It also continually must meet more stringent mining regulations.
Blockchain technology can help with these needs but requires specialized training beyond the typical IT education. Gaining experience in this area proves challenging but can provide a growing niche business for those in IT support.
Rental Companies
Who needs databases? Any type of rental company needs databases, a major prong of IT services. From dumpster rentals to renting floor sanders, rental companies must track who has their equipment, the length of time for which they rented it, and client billing. Each needs to track equipment maintenance, purchasing, equipment sales or trades, etc. On top of this, these companies require general IT support to ensure they offer 24-hour reservations for their equipment. Some may require advanced technology that lets them offer 24-hour equipment pick up and return, much like major auto rental companies, such as Enterprise Rent-a-Car and Hertz offer. Rental companies also need websites and voice-over IP (VOIP) systems.
Other Services
Other service industries also need general IT support services, databases, and website design. For example, businesses offering moving services must track clients, a selection of services, multiple locations per client, and much more. Hairstylists, makeup artists, wardrobe stylists, photographers, and models need portfolio websites that showcase their talents. These websites also need booking web apps so potential clients can schedule consultations or services.
Getting Started with IT Support and Maintenance
Information technology businesses that want to specialize in a niche or market themselves to a larger audience have a vast target audience of businesses that need their services. Businesses in any industry that want to grow and better serve their clients need IT support services. Outsourcing this need makes the most sense; it allows the small business to purchase only the services it needs at an affordable price and scale those services as it grows. Together, the IT services industry and small businesses can grow stronger and improve profits for both sides.