10 Clients to Get Your Web Design Life Started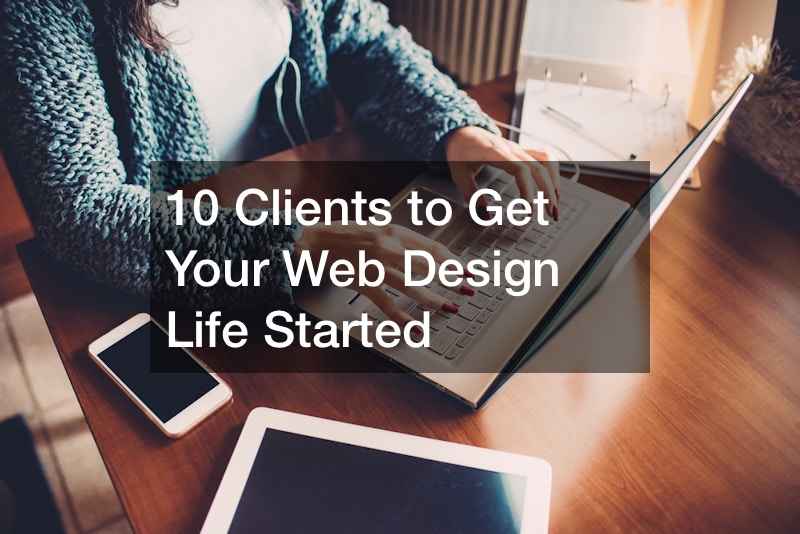 The web design life can be highly fulfilling and fun with the added benefit of working from wherever you want in many cases. With that said, getting your web design life started and building a good career can be quite a daunting task. Well, buckle up those designer boots, because we've got a lineup of clients that will ignite your creative fire and launch your journey the right way.
Bid farewell to sleepless nights and worrying about your career and future, and say hello to a realm bursting with limitless possibilities and jaw-dropping websites. We will guide you so you will eventually encounter your dream clients. This guide could help transform your web design life into an exhilarating and satisfying adventure!
1. Salvage Yard
When designing a website for an auto junk yard, it's important to highlight the specific services provided. If you want your web design life to be a successful one, always keep that in mind, no matter what kind of company you're designing a website for. You can start with the homepage, which should provide an overview of the salvage yard's services and a brief introduction. You can include a visually appealing header image that represents the salvage yard or its core offerings.
Also, create a dedicated page that outlines the range of services offered by the salvage yard. This page can include subsections such as vehicle salvaging, parts inventory, vehicle sales, and vehicle recycling. Consider including information on pricing, availability, and any discounts or special offers. You can provide a form or contact details for visitors to inquire about specific parts, vehicles, or pricing details. It would also be cool if you could implement a feature that allows users to request specific parts that may not be currently listed in the inventory. Provide a form or contact information for customers to submit their requests.
2. Used Car Dealer
When you design a website for a used car dealer, you'll have to learn a bit more about cars and the car sales industry. One thing about web design life that people don't always mention is how much you'll learn about different industries and topics! You will have to design this kind of website to showcase the dealership's inventory and provide users with all and any relevant information. Also, the overall user experience should be enhanced as much as possible.
Choose a clean, modern, and professional design that reflects the brand identity of the used car dealership. Utilize a consistent color scheme, high-quality images, and legible fonts. Avoid clutter and maintain an organized layout. Dedicate a separate page for each vehicle, providing comprehensive details. Includes specifications, features, vehicle history (if available), condition reports, and any additional services offered such as warranties or financing options. Incorporate a contact form or call-to-action button on each vehicle page for interested buyers to inquire for more information or schedule a test drive. If the dealer sells a specific kind of vehicle, such as an exotic car or something similar, make sure to highlight those special deals.
3. Attorney
If you want to design a website for an attorney, you'll have to know more about what they do. You won't be able to design the same kind of website for an adoption lawyer as you would for a criminal lawyer because they're very different and offer different services. However, there are main elements that remain the same, no matter what the attorney does for a living. You'll have to pay careful attention to professionalism, credibility, and ease of navigation. Use a simple color scheme, legible fonts, and a well-organized layout. Avoid clutter and excessive visuals that may distract from the content.
Clearly present the attorney's areas of practice on the homepage or a dedicated page. Provide concise descriptions of each practice area and include any relevant certifications or specialties. Make it easy for visitors to understand the attorney's expertise and the types of cases they handle. You should also include a detailed 'About' page that introduces the attorney and their qualifications. Highlight their education, experience, notable achievements, and any professional affiliations or memberships. Adding a professional headshot can help establish a personal connection with potential clients.
4. Local Churches
Your web design life won't always be glamorous and exciting. Sometimes, you'll have to create websites for smaller companies or organizations, such as churches and similar institutions. For these clients, you'll need to focus on creating an online presence that reflects the church's values, provides relevant information, and fosters community engagement. You can also make the websites stand out by adding special features such as church directory apps.
Choose a warm and inviting design that reflects the character and values of the church. Use a color scheme that complements the church's branding or decor. Consider incorporating relevant imagery, such as photos of the church building, congregational activities, or symbols associated with the faith. Create a user-friendly navigation structure that makes it easy for visitors to find information about the church's services, events, ministries, and beliefs. Use clear labels and organize the content logically. Include prominent links to essential pages like About, Worship, Ministries, Sermons, and Contact. Dedicate a section of the website to worship services. Add details such as service times, styles of worship, languages used, and any special services or events. Consider adding a calendar feature to provide an overview of upcoming services and events.
5. Carpet Cleaners
You can get a little bit creative when you're designing a website for a carpet cleaning company — one of the perks of web design life. Keep in mind, though, the homepage should provide an overview of the company's services and a brief but interesting introduction. Include a visually appealing header image that showcases clean and fresh carpets. You should create a page dedicated to outlining the services offered by the company. Describe the various methods used for carpet cleaning, such as hot water extraction (steam cleaning), dry cleaning, or encapsulation. Explain the benefits of each method, including deep cleaning, stain removal, and quick drying times.
Highlight the company's expertise in removing tough stains and unpleasant odors from carpets. Emphasize the effectiveness of stain removal techniques and the use of eco-friendly or pet-safe products. If the carpet cleaning company also offers upholstery cleaning services, dedicate a section to describe the process and benefits. Highlight the importance of maintaining clean and fresh upholstery in homes or businesses. Showcase a gallery of before and after photos to demonstrate the effectiveness of the carpet cleaning services. Include images that highlight the transformation of heavily soiled or stained carpets into clean and refreshed ones.
The main focus of a bail bondsman's website should be on the services offered and the website needs to be professional and instill a sense of trust. Dedicate a page or section to describe the services provided by the bail bond agency. Explain the process of securing bail bonds, the types of bonds offered (e.g., surety bonds or immigration bonds), and any specific expertise or specialties the company has.
Make it easy for visitors to contact the bail bondsman company. Display the contact details prominently on every page, including phone numbers, email addresses, and the company's physical address. Consider including a 24/7 availability statement to assure potential clients that help is accessible at any time. Create an 'About Us' page that introduces the bail bonds company and its history. Highlight the expertise and experience of the team members, showcasing their backgrounds and credentials. Emphasize the dedication to providing reliable and confidential services to clients.
You should also add a section that addresses common questions and concerns about the bail bonds process in a dedicated FAQ section. Cover topics such as how bail bonds work, the responsibilities of the defendant and co-signer, the timeframe for bail, and any applicable fees or collateral requirements. Provide clear and concise answers to help potential clients understand the process.
7. Local Eatery
Designing a good website for a local restaurant requires creating an attractive online presence that showcases the restaurant's atmosphere and menu, and highlights its unique offerings. As your web design life becomes more comfortable for you, you'll be able to do this in your sleep! Choose a design that reflects the style and ambiance of the eatery. Use an inviting color scheme, high-quality images, and visually appealing typography. Ensure the design is clean, well-organized, and visually engaging.
Make sure you design a user-friendly navigation structure that allows visitors to easily explore the website. Include clear labels for essential pages, such as Home, Menu, About Us, Reservations, Contact, and any specific sections like Events or Specials. The eatery needs an enticing homepage that captures the essence of the eatery. Include high-resolution images of the restaurant's interior, exterior, and signature dishes. Use concise and compelling text to convey the unique selling points and atmosphere of the eatery.
8. Assisted Living
In your web design life, you'll have to make websites for a variety of clients. Dedicating your time to creating one for assisted living care services will improve your skills and also show future clients that you're versatile and capable of taking on any challenge. It will be up to you to create an informative and compassionate online presence that showcases the services, amenities, and values of the facility. Choose a design that reflects compassion and comfort, creating a welcoming and reassuring atmosphere. Use soothing colors, high-quality images of happy residents, and fonts that are easy to read. Aim for a clean and organized layout.
Provide an overview of the assisted living care services offered. Clearly describe the types of care available, such as personal care, medication management, memory care, or specialized programs for specific conditions. Highlight any unique features or specialized care options your facility offers. Showcase the amenities and facilities available to residents. Include details such as dining options, common areas, fitness centers, outdoor spaces, and recreational activities. Use high-quality images to highlight the comfortable and welcoming environment of the facility.
9. Horse Stable
To create a good website for a horse stable, you'll have to research all things related to the industry. You'll have to create a website that will showcase the facilities, services, and overall equine experience the companies offer. When you choose a design, go for something that reflects the equestrian world and creates a sense of connection with horses. Use colors associated with horses, such as earth tones or shades of green. Consider incorporating relevant images, such as horses, riders, or picturesque landscapes.
Find creative ways to showcase the facilities and amenities available at the horse stable. Include descriptions and photos of the barns, stalls, pastures, arenas, trails, horse pellet bedding, and any specialized areas like wash racks or round pens. Highlight features that set the stable apart, such as spacious turnout areas or state-of-the-art equipment.
10. Dentist
A website dedicated to a dentist office needs to be professional and provide essential information for patients. For the overall design, you should opt for something that's clean and modern and reflects the professionalism and hygiene associated with the dental industry. Use a color scheme that evokes a sense of cleanliness and tranquility, such as shades of blue or white. Ensure the layout is organized and visually appealing. Design an engaging homepage that welcomes visitors and showcases the unique value of your dental practice. Include high-resolution images of smiling patients, a brief introduction to your practice, and key selling points like advanced technology, personalized care, or specialized services.
Introduce the dentist and the dental team members. Include their qualifications, experience, and areas of expertise. Incorporate professional headshots and personal bios to establish a personal connection and build trust with potential patients. Dedicate a page to outline the services and treatments offered by the dental practice. Provide detailed information about general dentistry, cosmetic dentistry, preventive care, orthodontics, or any specialized services the dentist offers. Include descriptions of each service, the benefits, and any technology or techniques utilized.
The web design life can be a thrilling adventure when fueled by the perfect clients who recognize and appreciate your artistry. One thing has become evident: the synergy between designers and clients is the driving force behind our creative endeavors. You should seek out those clients who not only ignite your passion but also challenge you to reach new heights. Embrace collaboration as a catalyst for innovation, and never settle for anything less than extraordinary.