10 Excellent Subjects for Any Design Portfolio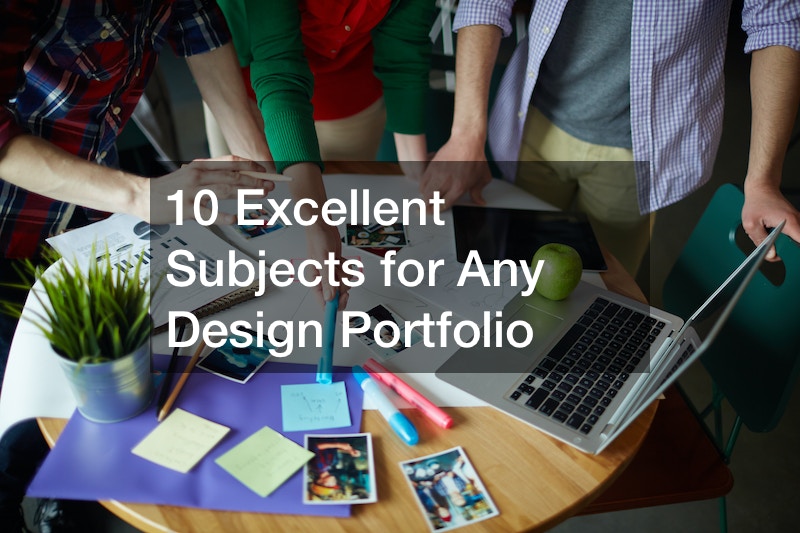 A quality design portfolio is a great way to showcase your creativity, expertise, and skills to potential employers and project managers. Yet, you may only have relevant samples if you're starting. A strategic way to maneuver this is to select subjects and create spec samples to showcase. Your portfolio will depend on the subject you choose. Discover ten excellent subjects for any design portfolio.
1. Hospital
Hospitals are excellent subjects for any design portfolio because of their complexity and challenge. They have intricate layouts, which makes them a challenging design project that can showcase your problem-solving skills. Hospital designs are human-centric to ensure patient comfort and functionality. Hence, you can show off your empathy in design thinking. Modern hospitals also integrate modern medical technology, an excellent opportunity to show your ability to harmonize complex equipment with aesthetics.
So, what should you include in the design portfolio? First, show how the designer optimized the hospital layout for easy navigation. Show the patient rooms with an emphasis on privacy, comfort, and infection control measures. You can also show safety features such as wheelchair ramps, handrails, and anti-slip floors.
Hospitals are unique institutions because they're healing environments. In your portfolio, emphasize healing elements such as natural light, soothing colors, and décor. If the hospital is taking strides in sustainability, you can showcase energy-efficient lighting, recycling programs, and sustainable materials. Not only does this position you as a diverse designer, but it also displays your commitment to environmental responsibility.
2. Mechanic
A mechanic shop is also an excellent subject for any design portfolio. First, it provides an opportunity to display versatility because of the diversity in mechanics' workshops. These spaces empathize with functionality and efficiency, so you can demonstrate a knack for optimizing workspaces. Since automotive businesses such as motorcycle dealers are prevalent, you can make shop designs relevant to clients. Mechanic shops understand that good design can help align aesthetics with the company's image.
One of the things you should include in the design is the workspace layout. Ensure to display efficient arrangement of workstations, tools, and equipment that maximize productivity. Show the customer area with a special focus on comfort, aesthetics, and entertainment options. Since branding is a key part of any design, it's essential to show branding through signage, color schemes, and logos.
Mechanics have special features that will set them apart in a design. So, show any ergonomic design principles in the mechanic shop, from the workbenches, lifts, or any other equipment that reduces strain on the mechanics. Use your portfolio to show innovative storage solutions to spotlight accessibility and organization that enhance mechanics' efficiency. Lastly, don't forget to show how the design accommodates the display of vehicles for sale.
3. Agriculture
Are you looking for a more nature-oriented subject for your design portfolio? Agriculture is a diverse field with many spaces, structures, and equipment. From vast farms to greenhouses to tractors, agriculture offers ample variety for any design portfolio. You can choose to focus on sustainable practices, which allows you to demonstrate your commitment to environment-friendly design. Since agriculture is central to the food industry, your design suits restaurants, producers, and sustainable food initiatives.
As with any other design, the layout is the first element you should include in the portfolio. Highlight considerations for crop rotation, irrigation, and harvesting operations. If the agricultural setup is a greenhouse design that showcases the use of sustainable materials and natural light. The design focus for agricultural farms with processing facilities should be on processing and packaging facilities.
In your design portfolio, highlight organic farming, renewable energy use, and rainwater harvesting. Put a spotlight on cutting-edge agricultural technology, including precision farming, automation, and sensor-based irrigation. Also, display designs that facilitate community engagement, including farmers' markets and educational spaces.
4. Manufacturing
Manufacturing facilities cover a wide spectrum of operations, providing diverse design challenges for any design portfolio. With manufacturing as a subject, you can focus on design elements that emphasize optimized workflows, space utilization, and safety. It can be a superb way to show your expertise in creating efficient industrial spaces. Manufacturing is a relevant sector in the economy; thus, you can pitch your design to contract manufacturers and industries within the sector.
In your portfolio design, include the factory layout with a special focus on machinery placement and ergonomics. Display design in controlled environments such as cleanrooms to highlight air quality control and contamination prevention. Most manufacturing companies have warehouses so that you can focus on rack systems and loading docks. You can also feature production line designs, especially those related to automation and quality control.
Some of the features you can focus on in the portfolio are lean principles. Demonstrate how the design uses lean manufacturing principles to reduce wastage and increase efficiency. Next, showcase how the industry implements safety protocols for worker well-being and accident prevention. It's also interesting to display the adoption of industry technologies like IOT sensors, robotics, and data analytics.
5. Landscaping
Landscaping is one of the most interesting subjects for any design portfolio. Landscaping is a designer's dream, from lush lawns to well-kept public parks. If you edge more towards environmental stewardship, you can use landscaping subjects to show your commitment to creating eco-conscious landscapes. According to Zippia, 87% of landscaping designers are likelier to work in the private sector. That means there's plenty of opportunity to showcase landscaping designs to clients.
So, with such diverse elements to display, what should you include in the design? The first element to consider is residential gardens, whereby you showcase aesthetically pleasing and functional residential gardens. Focus on plant selection, hardscapes, synthetic grass, and outdoor living spaces. For commercial landscapes, focus on corporate campuses, shopping centers, and hospitality venues. Public parks are also great subjects, especially their walking paths, seating areas, and local flora and fauna.
As for the landscaping features, showcase the effortless integration of pathways, patios, and walls to the overall design. A more playful way to display your design is by highlighting how landscape design accounts for seasonal variations. For instance, how does winter snow management affect landscape design? If applicable, consider how landscape design affects community engagement, from community gardens to outdoor art installations.
6. Construction
The Harvard Design Magazine says only a small percentage of built structures in America engage an architect. While this is a grim fact, most construction projects won't begin with a designer's input. The whole 'design-build' industry relies on design portfolios to give clients a taste of what the company can deliver. That makes construction one of the most lucrative subjects of any design portfolio. You can show the trendiest pool house designs to clients.
In your portfolio, you can display architectural and interior designs for residential properties. Put a spotlight on functionality, aesthetics, and sustainability. For commercial buildings, you can feature retail stores, restaurants, and offices focusing on customer experience and energy efficiency. You can increase by showcasing infrastructure projects from dams to public roads.
Green building standards and LEED certification are the new selling points in the construction industry. Exclusively focusing on these elements makes a portfolio pop in a sea of portfolios. Structural innovation is also constantly evolving and thus offers an opportunity to show unique building materials and earthquake-resistant features. You can highlight projects ranging from small renovations to large-scale construction.
7. Dentistry
Dentistry is an intriguing field with decades of interesting features to include in any design portfolio. It falls in the healthcare sector, and thus, a designer has an opportunity to contribute to creating functional and comfy healthcare spaces. Like most fields in healthcare, dentistry is patient-focused because dental clinics focus on patient well-being and privacy. Design is helpful in showcasing branding and image, which conveys professionalism and trustworthiness.
There's so much to choose from in dentistry, but you can start with dental clinic rooms. Showcase dental treatment rooms emphasizing ergonomics, infection control, and patient comfort. The waiting and reception areas also deserve a spotlight on patient flow, aesthetics, and a calming atmosphere. Sterilization and hygienic practices are a big factor in dentistry so you can show designs for sterilization in dental lab areas.
As a patient-centric institution, patient experience is a big factor in dentistry. So, showcase elements such as color schemes, entertainment options, and noise reduction that prioritize patient comfort. Illustrate how dental clinics integrate modern dental equipment for procedures such as tooth whitening, digital imaging, and electronic health records.
8. Roofing
Roofing is a critical component of any building; thus, it's an essential aspect of construction design. Even with a roofing contractor, you'll have to work with a designer to develop the most suitable shapes for the roof. In ancient Rome, roof design was a worthwhile career that attracted the best minds. You can choose roofing as a subject in any design portfolio because roofing design greatly influences building aesthetics.
You can specialize in three roofing levels when choosing samples for your design portfolio. The first is residential roofing, where designers can showcase roofing design, pitch, and compatibility with architectural style. The next level is commercial roofing, focusing on roofing solutions for commercial spaces but emphasizing energy efficiency, insulation, and suitability for varied business needs.
Some roofing-centric features you can prioritize in your design portfolio are weather resistance, durability, and sustainability. Weather-resistant roofing can effectively withstand local climate conditions such as extreme temperatures. Showcase roofing solutions made for long-term performance with little maintenance to provide value to building owners. As for energy efficiency, display roofing designs with solar panels or reflecting roofing materials for increased energy savings.
9. Demolition
Demolition projects involve partial or full removal of structures. It's a breath-taking subject for any design portfolio and may have less competition. Designers can use this subject to showcase the transformation of spaces. Demolition services use before and after aspects of site transformation to get new clients. Thus, demolition is one of the best subjects if you want to give a unique narrative for a portfolio. It's also a good chance to show off the ability to manage complex and high-risk projects.
In your design, start by documenting the initial structure assessment, including structural integrity and hazardous materials considerations. Next, highlight demolition plans in line with safety protocols, waste management, and equipment usage. Your portfolio should showcase deconstruction techniques used, from controlled implosions to selective demolition. The last step to document is site remediation, including activities such as site cleanup.
Sustainable demolition complies with OSHA guidelines and industry standards from start to end. Your portfolio should highlight an emphasis on these stringent safety protocols. It should also display eco-friendly practices such as reducing waste and encouraging materials recycling. When applicable, showcase projects involving the demolition of historical structures with an emphasis on documentation and preservation efforts.
10. Country Club
Did you know your design portfolio could exclusively focus on country clubs? For starters, country clubs have a diverse range of lifestyle and recreation facilities, from golf courses to Olympic swimming pools. You'll have more than enough subjects to display lifestyle and recreational expertise. Besides, since country clubs tend to cater to individuals seeking members looking for premium experiences, you can use this to showcase your ability to upscale and create exclusive communities.
A design portfolio will show golf course layout from hole designs to golf carts pathways and fairways. It also shows the clubhouse designs by highlighting interior spaces and dining lounges imbibed with a touch of class and luxury. Another focus area is the pool and recreational areas, where you can demonstrate your knack for blending aesthetics with functionality. Wrap up your portfolio, focusing on the outdoor dining areas that provide scenic views and inviting social spaces.
To bring it all together, designers and artists must have a well-organized portfolio to create trust with prospective clients. The best way to convince clients you are qualified to handle the job is by showcasing past design jobs. You can choose multiple subjects, but this guide has highlighted the top ten best subjects for any design portfolio. Please explore our website to learn other helpful tips.