How to Develop a Well-Rounded Graphic Design Portfolio That Attracts Small Business Clients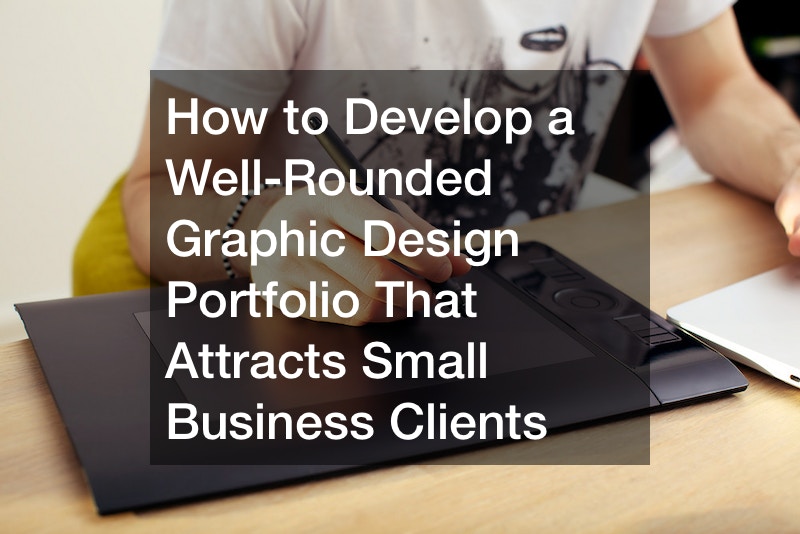 One of the best ways to attract graphic design clients is to create an impressive portfolio. One of the first things you should ensure is to represent yourself honestly. Being honest helps you establish credibility with prospective clients. This is one of the ten straits of in-demand graphic designers. It would be a mistake to lie about the work that you do. Graphic design projects can be complicated, and in some instances, they require lots of collaboration. You must always be honest about your involvement in each project. No one thinks you work in a vacuum, so you should be comfortable stating your role in coming up with something bigger than yourself. Clients will respect you more for doing that. Here's how to develop a well-rounded graphic design portfolio.
The Trifecta of Must-Haves

A lot of graphic design professionals believe in the trifecta of must-haves. Therefore, it's important to consider having these elements as part of your portfolio. This includes a website, Instagram, and portfolio. If you are not posting some of your work on Instagram, then you should start. This will significantly contribute to your portfolio.
On whatever platform you are using, it's important to present your work in a unique way. This is a very important factor to consider when it comes to how to develop a well-rounded graphic design portfolio. If someone is going through several portfolios at once, they can quickly start looking too similar. It would be a great idea to catch them off-guard with a portfolio that stands out. You can do this by using unique layouts and proper mockups. Using the same mockups repeatedly can devalue your work. Instead of doing that, think outside the box. When you show your actual work in situ, this helps tell a story, and it's also proof of concept. Apart from that, your online portfolio should display work in categories. For instance, if you have done work for a personal injury law firm, a home automation company, and dental practice brokers, there should be categories and shortcuts to each group.
Always make sure that your portfolio is customized for who is receiving it. This means you should align the portfolio with the job that you are trying to get. You must also remember that not everyone has the entire day to view thousands of portfolios in detail. Therefore, it may be a good idea to include your most relevant and impressive work first. You don't need to include every piece of work you have produced. Just your best is enough.
As a graphic designer, you should take some time to create conceptual work. This can be for non-existent clients, or you can find some clients and create projects for little to no cost. That way, if you don't have any projects that don't align with the job you are applying for, you can still have something to present. This will show the client that you are willing to put in a lot of work and time to get the job. This also gives them hope that once you get the job, you will do the same.
Make It Personal

Think of your graphic design portfolio as a resume. This means you must make it personal. Taking this approach is especially important for those designers who are just starting out. In fact, in the graphic design world, your portfolio is analogous to your resume.
It's important to include a letter of introduction in your portfolio. This will enable you to be personal with your clients and prospects. You can even get a little corny by telling how you loved art and graphics when you were young. For instance, maybe there was a time you studied masters like Michelangelo and Da Vinci. Anything that can make your portfolio personal. You can also include notable things you have achieved, like winning graphic design content or your first-ever job. The idea is to make people feel like they know you a little, so it's best to be forthcoming and candid.
As far as showing your art, you should try to present yourself as professionally as possible. Show samples of several different applications and styles. Displaying as much diversity as possible will help because you never know what the person looking at your portfolio will like or what they are looking for.
Do you specialize in cash for IT equipment designs or dental office, or do you mainly work for funeral homes? If so, make it known in your portfolio. You can also describe why you chose to work in those particular niches. That will also help you avoid getting clients from other industries you don't specialize in. For instance, if you have clearly shown you specialize in a particular niche, you won't get lots of requests from people wanting designs for a commercial cleaning service.
What Should Be Included in Your Portfolio?

There are lots of things that you should include in your portfolio. Apart from samples, which make up the majority of the portfolio, you should also include your qualifications. This is a very important factor to consider when it comes to how to develop a well-rounded graphic design portfolio. This will let employers and clients know that you invested a lot in your craft and you actually know what you are doing. You should also include testimonials and references. If someone needs designs for a professional roofer or heart clinics, it will give them confidence if other similar businesses give positive feedback. Anyone who is good at their craft is not afraid to stand behind their work. The fact that you have no problem with someone talking to your previous clients shows that you have a good track record of delivering impressive results. Don't forget to include your contact details as well.
Identify Your Specialty and Communicate It Well

When your future clients and prospects are going through your portfolio, they will be trying to figure out what you are really good at. After all, most designers who are jacks of all trades end up being masters of none. This is why it's crucial to differentiate yourself.
If you specialize in designing logos or packages, you should show lots of work that you have done for clients looking for those services. If you also offer printing services, or you are a one-stop shop for different services, you should show your work from the design stage up to the printed products. Showing your final products that have been printed on a variety of materials will help display your work in its truest form. It also helps to emphasize that you offer a complete package, from the design to the printed pieces.
It's always important to show your work in the way that the client will see it. Most graphic designers are focused on how things look on the computer screen, never really bothering to see how their finished work looks in the real world. If you have a chance to get some printed work, you should do so, and you must include them in your portfolio.
Show Off Your Best Clients

Do you know that some clients will work with you just because you have worked with a very successful customer? This is a very important factor to consider when it comes to how to develop a well-rounded graphic design portfolio. The entire point of creating a graphic design portfolio is to impress your clients. The moment you manage to show impressive work samples and an impressive list of clients, your chances of getting hired will go up. Social proof is a very powerful tool to use. This is why you must use your connections with reputable and recognizable brands to your advantage. It's like a sign that you are in demand and trusted by big brands.
If your aim is to attract a lot of clients, you need to show work companies in the industries that you hope to attract. You also want to show what those clients say about you. Try to make that take center stage in your portfolio. The only time you may have difficulties doing that is if you are a new designer. In that case, focus on showing the innovative, pro-bono work for the experimental theater companies and volunteered posters.
Show Off the Skills You Have

One of the purposes of creating a portfolio is to show off your skills. Potential clients want to know what you can do. This will help them determine if you are a proper fit for their design needs. They will also want to determine whether your design rates and skills are aligned. The best way to give clients a broader sense of your abilities is to be as diverse as possible. You can also include a link to a blog where you can talk about graphic design. In a way, this will help show how knowledgeable you are.
A great idea would be to also show your work at different stages. This will help give them an idea of your design process, which is essential if you want to provide more insight into your work. If you want to show prospective clients how you can impact their business, have a section where you show your work in use. This will help them visualize the potential your work has for their own businesses.
Make Sure Your Unique Value Proposition Is on Full Display

When creating a graphic design portfolio, your unique value proposition should be at the top of your mind. This is a very important factor to consider when it comes to how to develop a well-rounded graphic design portfolio. Your potential clients should clearly understand what you can do better than all the other graphic designers they are considering for the work. Instead of just displaying your projects, feature the thought process and rationale behind them. This helps highlight your value beyond the aesthetics. There are lots of on-trend and turnkey aesthetics on the internet nowadays, and anyone can buy and edit. The real value of working with graphic designers is their ability to enhance, address, and solve specific business challenges and objectives.
Do you want to create a killer portfolio? You should present yourself in a way that allows people to view you as a guide who can lead their business to solutions they may never have thought of on their own. Another way to show your unique value proposition is to show the success of your work. Bring your potential clients full circle to understand how your work impacted other clients you have worked with in the past. Frame your success around the objectives of your clients rather than your design objectives. This will help you develop a well-rounded graphic design portfolio. Clients understand the objectives because that's what they care about.
Expand on Your Concept of What a Portfolio Means

A portfolio is more than just a collection of pictures and logos you have done. You must think of it as something more. Consider the effect your portfolio has on the people who are viewing it and how it will impact the projects you land and the work you will do.
When creating your portfolio, show work that solves real-world challenges. While you may deliver creative designs, clients are more interested in seeing how you are able to break apart a communication challenge and apply your graphic design skills to it in the most effective way. This will convince them that your work can carry out the intended message effectively. Good design is way more than just coming up with nice visuals. Along with your designs, you must place descriptions of your work that break up your projects into client/industry, background, intended audience, a pain point that was addressed, strategy used to come up with a solution, and mediums utilized.
Pro Tips

If you don't have relevant work to write descriptions on, you should come up with some hypothetical examples of work. However, it's best to use real companies as your examples. The trick is to mention in your portfolio that it's all conceptual.
These tips will help you create a great graphic design portfolio. Nowadays, the majority of designers use online design portfolios. These have lots of advantages. For instance, you can easily update your projects and edit your descriptions. However, you must also consider creating PDF portfolios customized for the projects you will be trying to get. You should also include cover pages that list who the prospective employer or client is. This will help you develop a well-rounded graphic design portfolio.
When creating custom portfolios, curate your work and include projects that are relevant to what they do. This is a very important factor to consider when it comes to how to develop a well-rounded graphic design portfolio. Doing this will show your insight into the things they are searching for and the time invested in carefully selecting what you think is right for them. As you might imagine, it's way better to do things this way than just sending them to your website like all the other designers.
Remember that your graphic design portfolio is an extension of your own brand. This is a very important factor to consider when it comes to how to develop a well-rounded graphic design portfolio. If you are not able to come up with an impressive design portfolio, nothing can convince clients that you will be able to do good work for them. In fact, a weak portfolio is a sign that you are a bad steward for any projects they may give you. As such, take time to present to complete package of who you are. If you are into entrepreneurship, let it show; maybe someone will be drawn to you because of that. Think of your portfolio as a masterpiece, not just a platform to share your work. This will help you develop a well-rounded graphic design portfolio.